January 19, 2023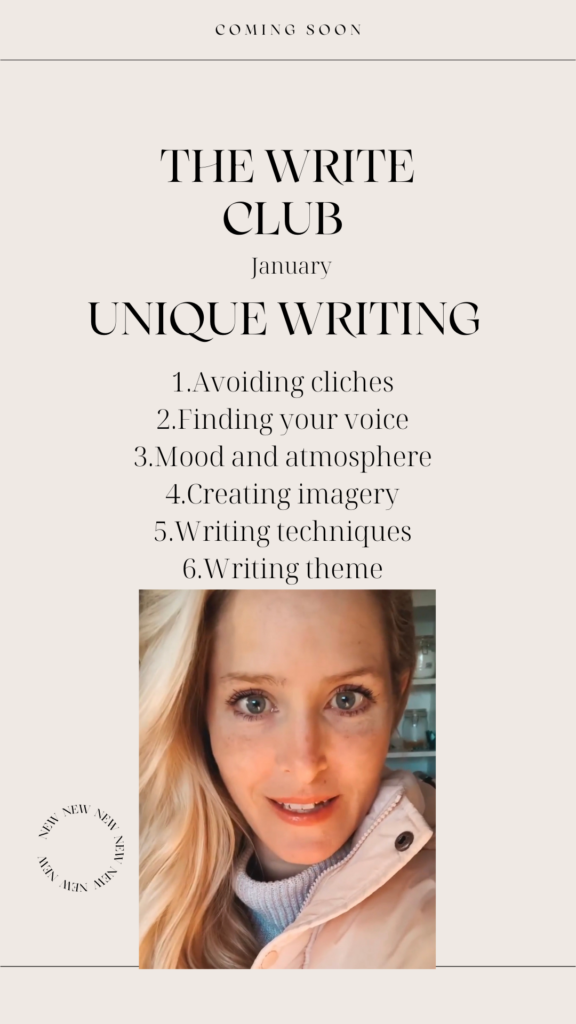 And so it continues! 🖊 Here are the session details, times, dates, prices for the next round of Holly Craig's The Write Club: Unique Writing via Zoom.
What's included this time around? Each fortnight we will focus on a different subject/topic, and I will teach the topic for 20 minutes before we start practicing implementing the week's teaching into our own writing. I will give you a focus each week, a different task that we will execute in our 1.5hr session! You will also be included in The Write Club community chat group where we collaborate and share ideas, support and resources.
📚 Unique Writing is a 6-week course. January 19 – March 30
W1 Jan 19-  Avoiding Cliché                       
W2 Feb   2-  Finding your unique voice                         
W4 Feb 16-  Mood and atmosphere                                       
W3 Mar   2-  Creating Imagery                               
W5 Mar 16-  Writing Techniques
W6 Mar 30-  Writing Theme
 
WST (Perth, Australia) 6pm-7:30pm
$25 per session, including Zoom recordings so you may either join us live or go back and re-watch the recordings and send me your work for feedback!                            Can't wait to continue with you all! Holly xx
_________________________________________________________________________________________________
JANUARY 15, 2023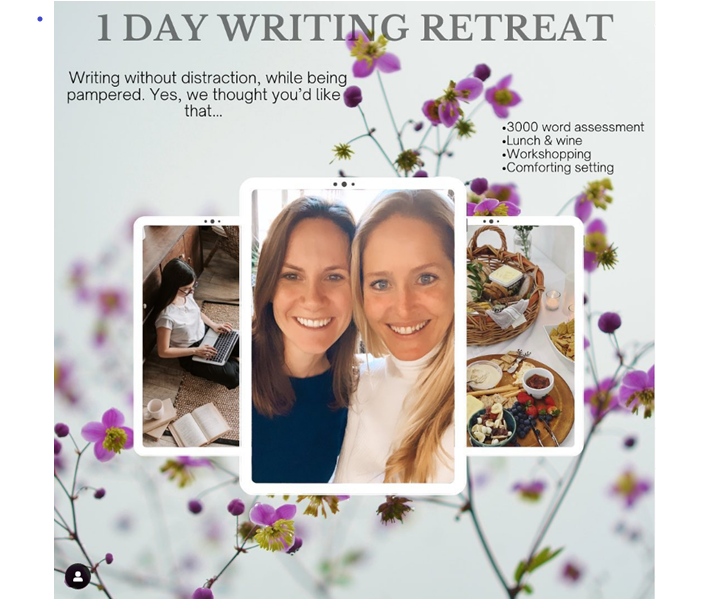 Holly & Polly's 1 Day Writing Retreat
A day of relaxation to write? With lunch? And wine? And a 3000-word assessment? Yes! Let us pamper you at our 1-day writing retreat.
When?
Sunday, January 15 2023
10am-3pm
What's included?
A relaxing writing day, away from distractions with Polly and myself supporting you.
Workshopping, writing prompts and a 3000-word assessment included!
Oh, and let's not forget lunch and wine!
How Much?
$200 including 3000-word assessment/lunch/wine
Where?
We cannot wait to meet you all in person, pamper you and support your writing. But if you're interested, please book now to secure your spot… only 15 available and 8 spots are already taken xx
________________________________________________________________________________________
November 2022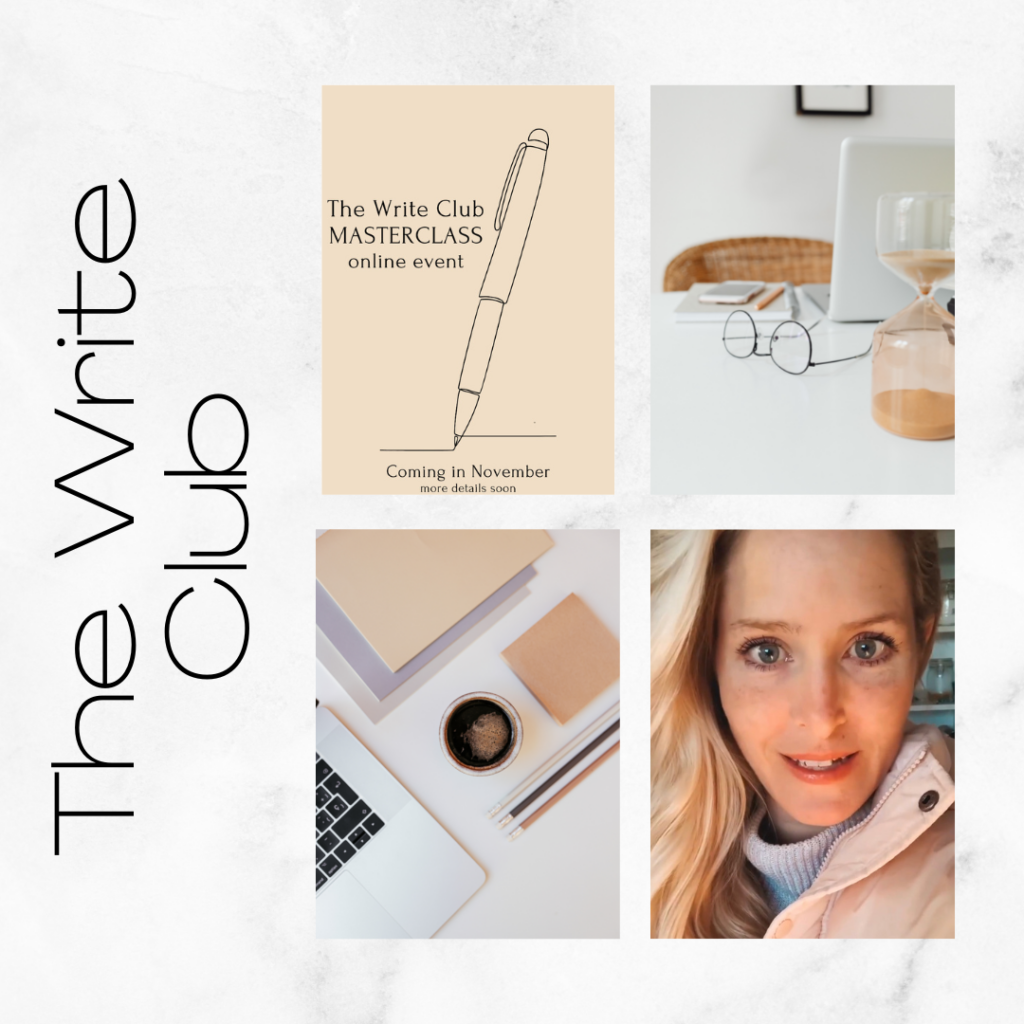 The Write Club Online Masterclass: Writing Technique
You're invited to… The Write Club Online Masterclass- Writing Techniques. 🎉
When: Saturday, November 12 8am-2:30pm WST (30 min break midway)
What: learn how to incorporate literary techniques and devices into your writing to STAND OUT from other writers. 🌟
Topics covered include:
-psychic distance
-foreshadowing
-authorial interpretation
-personification
-mood and atmosphere
-figurative language
-imagery
-symbolism
-slow motion
-concrete detail
⭐️ You will receive a PDF complete with resources/examples and a booklet to work from during the workshop! ⭐️
Cost: $150 for early birds who book before Nov 1
***$180 thereafter *** BOOK HERE NOW!
___________________________________________________________________________
October 2022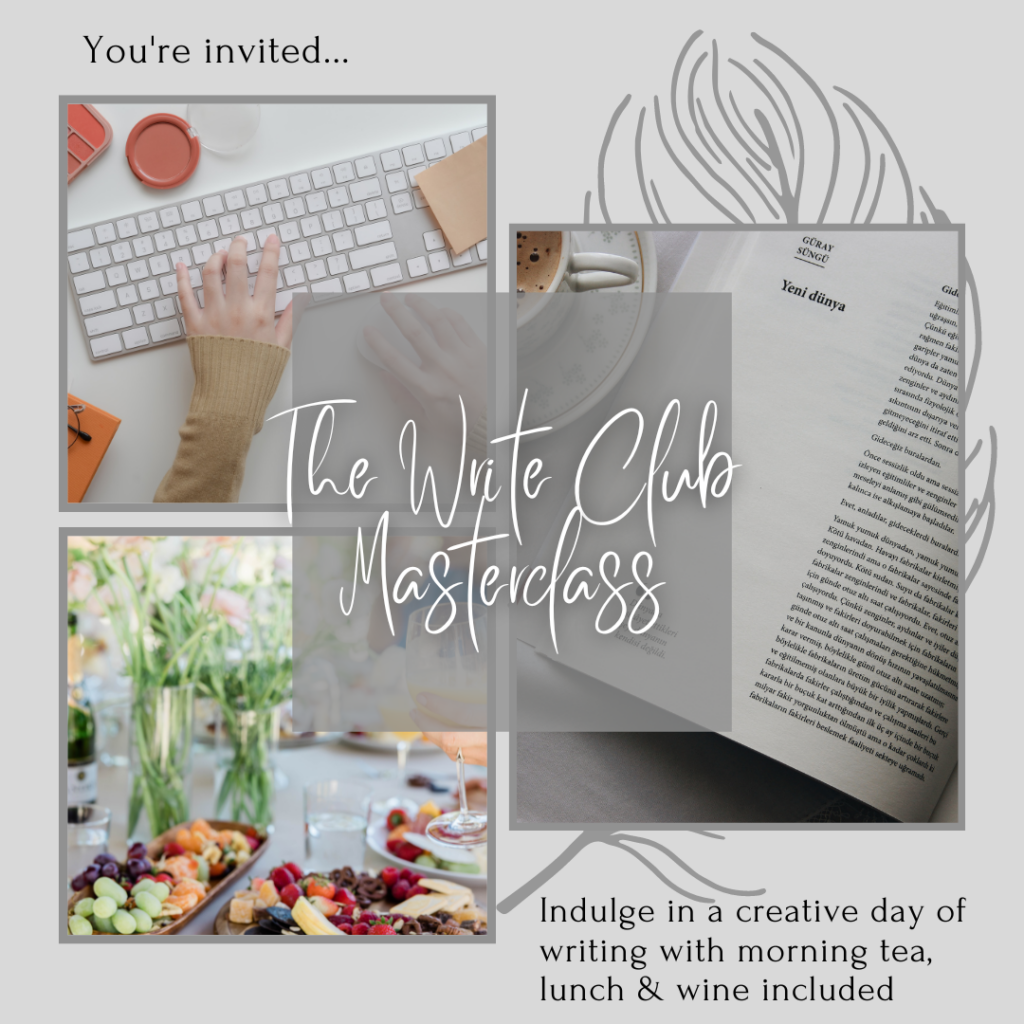 The Write Club Masterclass
You're invited to spend a whole day unwinding, indulging in delicious food and wine, mingling and writing, while learning about the craft of great storytelling.
Not only will you gain loads of knowledge and advice (feedback from me) and the time to write… you will receive brunch upon arrival, coffee and tea throughout the day, a delicious lunch served with wine and dessert!
I really want you to feel pampered and looked after, relaxed and rested while you enjoy your time to creatively express yourself! This will be an intimate, small event.
Program/content/topics:
Find Your Unique Voice
Hooking the Reader
Using Literary Techniques
Writing for Your Genre
Feedback from me!
Details:
Where: Heathcote Cultural Precinct, Applecross PERTH WA
When: October 22, 2022
Time: 9am -4:30pm
What to bring: Just yourself and whatever you write with!
Cost: $250
***Bookings will be limited to only 15*** so book now to secure the early bird price of $250 (Bookings after Sept 7 will be $275)
Book HERE now to secure your spot!
______________________________________________________________________________________
Ongoing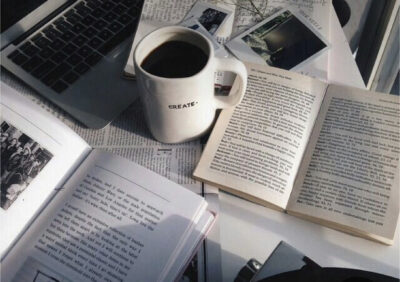 Small Group Mentoring
Looking for creative feedback and direction? I'm here to help.
My small group mentoring sessions will focus on providing you with feedback/suggestions and the guidance needed to polish and perfect your manuscript. I'll only be taking on a small number of clients at a time, to allow for intimate 1-1 sessions. We will meet as a group with like-minded writers who you'll get to know and network with. If you'd like people in the group to become your beta-readers, then great! More the feedback you get from a variety of writers, the better your writing will become!
What I will provide:
I'll read and provide valuable feedback on 2,000 words of your manuscript prior to every session.
A 1.5-2hr group session where we will work on your manuscript.
A group chat to bounce ideas off one another.
Prompts, resources and professional advice.
Tea/coffee/snacks
A discounted rate of $50 per session (As this is my first time running these classes)
Ongoing mentoring (These classes will continue until you feel you're ready to go at it alone)
DATES: (THURSDAYS: 6:30-8pm) WST
FIRST ROUND OF SMALL GROUP MENTORING IS NOW FULL (Contact me to be placed on the waitlist)
________________________________________________________________________________________________
August- Oct 2022

And so it continues! 🖊 Here are the times, dates, prices for the next round of Holly Craig's The Write Club: Rewrite Your Novel via Zoom.
I've already had so much interest and places are filling up fast…
Can't tell you how great these workshops are and how much fun we have.
📚 ReWrite Your Novel is a 7 week course. August 4- October 27
W1 Aug 4-    Re-vision: Writing as a reader                       CONCLUDED
W2 Aug 18-  Questions to ask yourself.                             CONCLUDED
W4 Sept 1-   Subplots and plots.                                         CONCLUDED
W3 Sept 15-  Fleshing out characters.                                CONCLUDED
W5 Sept 29-  Inconsistencies, structure and timelines.    CONCLUDED
W6 Oct 13-   Tightening, sharpening, eliminating.             BOOK HERE
W7 Oct 27-   line edits.                                                          BOOK HERE
Can't wait to continue with you all! Holly xx
__________________________________________________________________________________________________
April- July 2022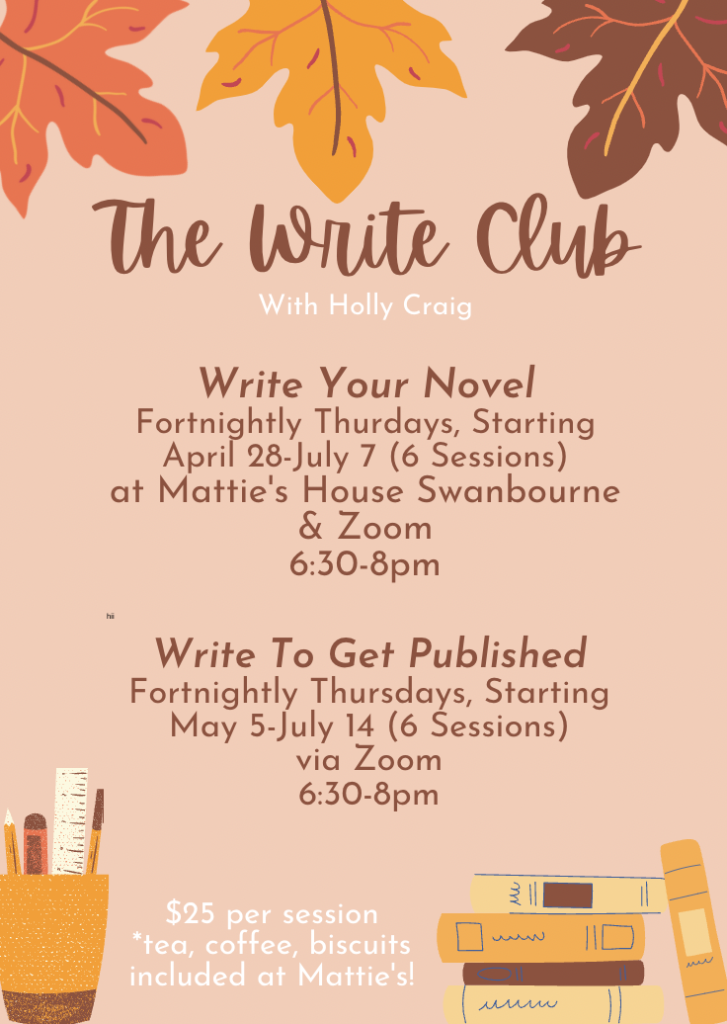 The Write Club
It's autumn! Time to cosy up, drink tea, eat biscuits… and write! Join me as we write together and meet with like-minded people. For beginners or writers who need a creative push, these classes will motivate you to keep going. I'm not only passionate about teaching writing, I also want to help you on the way to getting published. Want to learn how to write believable characters, create unputdownable plots and create tension? Or perhaps you've written your novel and you'd rather gain tips and tricks into how to attract an agent/publisher. Join me in-person or via zoom for weekly sessions.
What do I know?
? I have a degrees in creative writing, journalism and teaching from Curtin University.
? I'm an English teacher with expertise in helping Year 12s achieve university entry.
? I was accepted into the Curtis Brown Creative Write Your Novel Course @curtisbrowncreative.
? I have 2-book deal with @amazonpublishing and @audible_uk.
? I'm represented by a reputable, esteemed literary agency @darleyanderson_agency.
If you're interested in writing, getting feedback, meeting likeminded people, having fun and networking, contact me today! Holly.stubbs@hotmail.com
****BOOKING AND PAYMENT LINKS BELOW****
Write Your Novel Course Dates for Mattie's House in Swanbourne and Zoom
| | | |
| --- | --- | --- |
| Week 1 | April 28th | Write your Intro/hook to your novel |
| Week 2 | May 12th | Writing Character    |
| Week 3 | May 26th | Writing plot |
| Week 4 | June 9th | Writing setting |
| Week 5 | June 23rd | Writing tension/conflict |
| Week 6 | July 7th | Writing the climax |
Write To Get Published Course dates for Zoom only
| | | |
| --- | --- | --- |
| Week 1 | May 5 | Write your first 10 pages |
| Week 2 | May 19th | Write the synopsis |
| Week 3 | June 2nd | Write the cover letter |
| Week 4 | June 16th | Write the pitch |
| Week 5 | June 30th | How to find an agent |
| Week 6 | July 14th | How to stay motivated |
What to expect?
5-10 minute meet & greet. (Have your cuppa/wine/chocolates ready!)
15 minute "lesson" from me. Techniques, examples and experience will be shared.
1 hour writing, gaining feedback and advice from me (I'd really like to see what you're working on and how you write! ?)
10-minute shared reading (only if you're comfortable).
What to bring/do/practice?
Wear something comfortable and relaxing.
Bring note pads/laptop/water/warm socks or whatever you work with!
Practice shutting off from everyone and everything around you and just write.
Practice non-judgement.
When people are sharing their written work, provide positive feedback.
Can't wait to meet you all! Holly